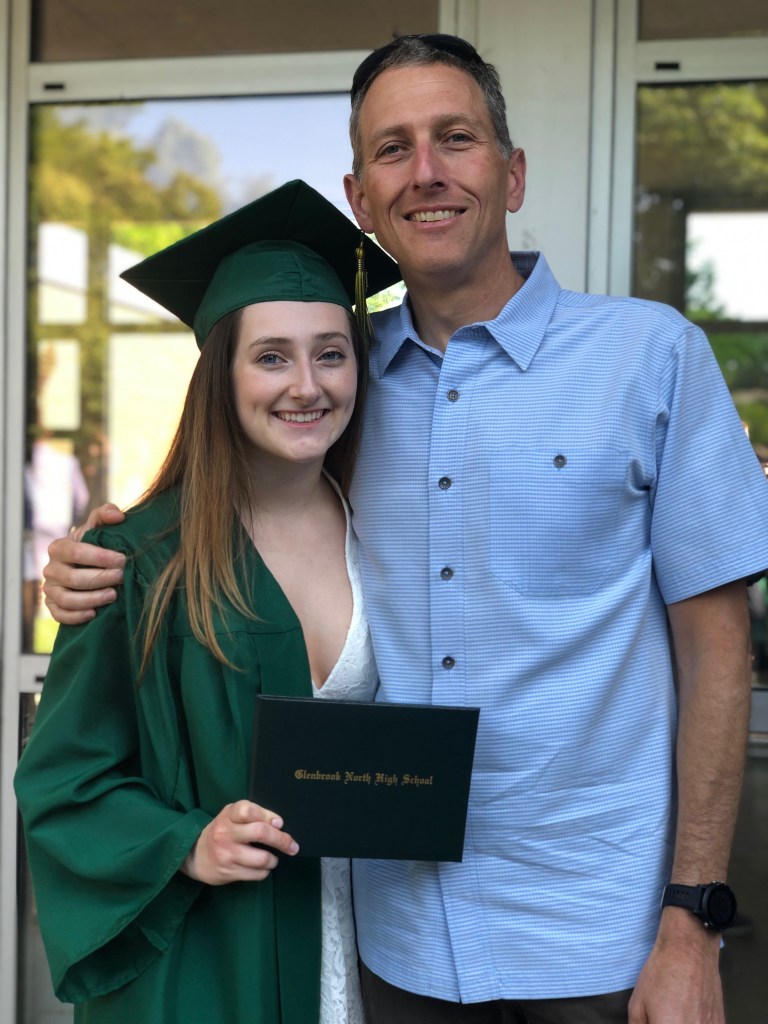 Maya,
As I sit in the balcony watching, your distinct smile is visible from afar. You and 500 other students are about to receive your diplomas and, in the process, cross over from high school students to graduates.
Our house has been hectic this past week with all four of us coming and going: weekend call at the hospital (me), finishing up AP exams, dance practice, work hours, graduation rehearsals and a 5k added just for kicks (you). Our paths crossed briefly, at the extremes of early morning or late night. Waiting in the auditorium for your name to be called allows me to focus on what is finally happening. My vision blurs as tears form; a pop-off valve for my swirling emotions. I try to tease out exactly what I'm feeling, but the intensity is too much at the moment. They call your row and your name is finally read. I watch you walk confidently across the stage and receive your diploma.
And in the blink of an eye, high school is over.
The next hour is chaotic at best. I struggle, but finally find you in the outdoor courtyard amongst a sea of green caps and gowns. Looking for friends, you dart and weave through the crowd, with that frenetic energy you always bring to the table. I try to keep up, my iPhone at the ready, capturing static pictures of dynamic moments with your friends. As our family poses for pictures, the smile on my face and my arm pulling you close don't project the complexity of my feelings. Pride, joy and excitement, mixed with a healthy dose of melancholy.
You are no longer my little baby girl.
I have been attempting to write a piece about you and your graduation for a while now.  Originally, it was filled with advice for my University of Wisconsin bound daughter. It had some good stuff in there. "Be yourself", "Take chances" or "Be curious".  But that wasn't really about YOU. It was what I hoped for you. And in that sense, it was more about ME. That piece remains on my electronic desktop, to be continued at another time.
As I take more photos of you and your friends, I recall photos from the past. There is one in particular where you are dancing, having launched yourself off the ground, legs stretched perfectly parallel to the stage and your arms extended. Those dance pictures never cease to amaze. Moments in time captured at your zenith, before gravity kicks in. The raw force it takes to propel yourself into the air is captured in images of powerful muscles in your legs. But there is also a grace in your ability to channel it all into a movements of beauty. Force and grace. Maya, you are most definitely a force. And you often display a grace beyond your years.
I remember one summer day when we were at the local pool. You and a friend chose to pass on swimming, in favor of practicing your aerials on the grassy picnic area. You ran across the grass for hours, hurtling your body into the air, almost, but not quite rotating your body around quickly enough to stick the landing. Again and again. Persistent. Tenacious. Unwavering.  And then…finally…you did it.
You throw yourself fiercely into so much of what you do. When a classmate's illness kept him from attending most of school one year, you demanded his desk remain in the room. When your principal announced a fund raising event, you wrote an essay for him, complete links to websites documenting reasons the chosen charity was unacceptable and suggestions for better choices. You have been a friend and ally for those struggling to find themselves or where they belong. You rehearse and practice your dancing for thousands of hours, despite turned ankles, irritated nerves and nails torn by dancing on pointe. And through it all you have made life-long friends, gained confidence in your voice through the power of inclusivity and found your passion for movement and music.
That picture of you dancing, frozen in mid-air, feels appropriate for this moment. With force and confidence, you have leapt into the air, away from high school as a new graduate. With amazing friends, an emerging voice and a love of dance, you are now defying gravity.
But I know as summer gives way to fall, you will come back down to earth, as a new freshman on an exciting college campus. And I know there will be tears. My tears. I am not ready for you to land.
You may be excited for your new roommate and living in the college dorm. For dance classes halfway up Bascom Hill. For runs on the lakeshore path and walks up State Street. For the 5th quarter and jumping around on football Saturdays. For studying late on a random Wednesday night. But that means that my little girl will not be living under my roof. I won't see the rolling disasterous mess you call a car pull into the driveway. I won't see your gluten free food packages or half eaten tubs of frosting left open on the counter. Or wake up in the morning to see you asleep sprawled on the couch. 
I think back to that day of a hundred attempted aerials. You were not to be deterred. You fell. Again and again. But you picked yourself up each time and went back to do that sprint into your jump, knowing the next one would be the one you'd land. Until finally you landed it. I watched you from about fifty feet away. Not really in your line of sight, but I could see you. Watching, in case you fell too hard or  twisted an ankle. Or to see you stick the landing. But you didn't need me. You handled the adversity that day quite well on your own. And now, years later, you are both more skilled as a dancer and more capable and confident as a young woman. Ready to take on all the exciting challenges that lie ahead.
I am sure in the coming months I will struggle and try to pull you closer. Just as I am sure you will be pushing away. That will be part of the challenge this summer; your pushing, my pulling.
I know you are ready to spread your wings. I am just hoping for a little more time before you fly away.